Adrian drove over early in the morning so he, Cathy, and I could go to Color Run together. This year, we actually got there on time. 😛
(Photo from Cathy's phone.)
This year's Color Run was not much different from the last. The route was nearly the same, but we felt like we were able to run more this year though! Huzzah!
A group selfie. Can you spot Adrian? 😛

Vince was wandering around the Color Run with the sole purpose of taking photos. He helped take this lovely photo of us. 🙂
There were some pretty neat photo ops at the finish line, one being this drum set sponsored by Zappos.


(Thank you for uploading the video, Cathy!)
There was also a "Shout Clean Zone" where someone used a leaf blower to clean off excess colored powder. It helped a lot in keeping the car clean afterwards!
I ended up going to the optometrist office looking like a hot colorful mess since I did not have time to go home and change. Luckily, the doctor did not mind one bit! (I made sure to bring my own towel to sit on.) He even threw in a joke about how he should go to Color Run next year and throw curry powder at people then turn around like nothing happened. Hahah!
Afterwards, Adrian, Cathy, and I drove back to Adrian's house where we finally got cleaned up. A couple hours later, we were off to meet up with Nicole and Yilun for the very first time!
We met up at The Walt Disney Family Museum. Nicole and I had been chatting online for about 5 years now, so it was a pretty big deal that we were finally meeting face-to-face. As awkward as we had discussed that it would probably be, it did not turn out that way at all! The two turned out to be more awesome than I had imagined. 🙂
We got to the museum a little close to their cut-off time, so we decided to just got the the special exhibition hall instead. To make things even better, we got a nice little hookup where we had to only pay the entrance fee to the exhibit instead of the entire museum entrance fee. Sweet!
We got to see the work of Mary Blair, one of Nicole's favorite artists.
Nicole and I shyly took a photo together to remember our first meeting. 😛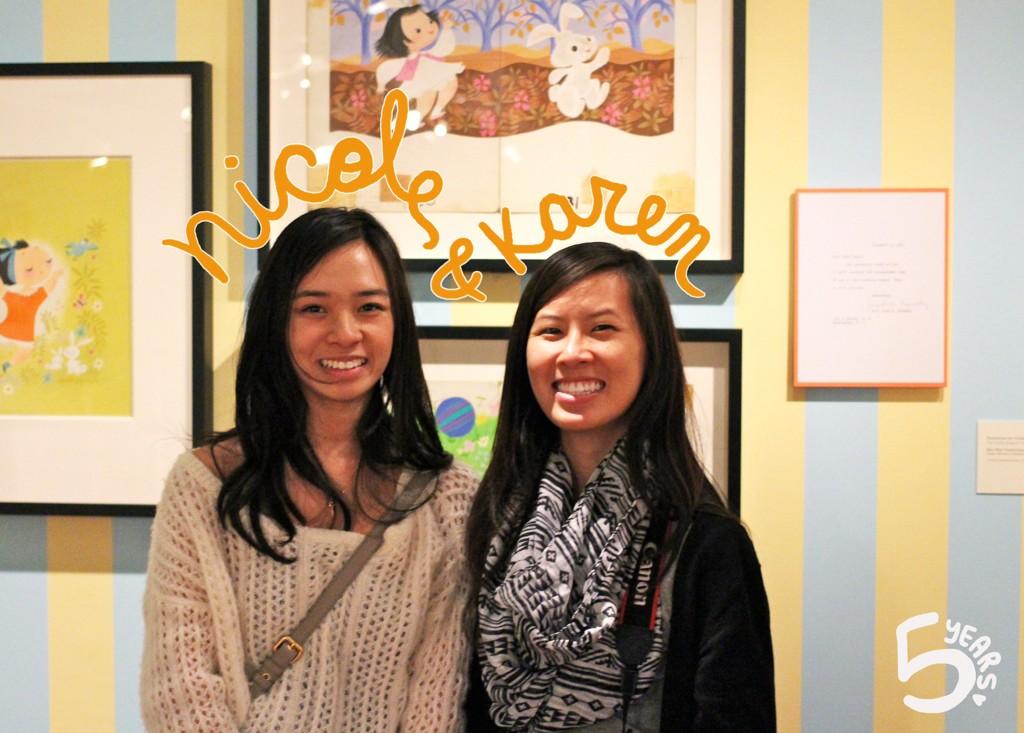 (Photo & doodle edits from Nicole)
 At the end of the exhibit, there was this guestbook that I thought was neat. Turned out more to be artwork from children. I wonder if they were inspired during their visit. 🙂
Adrian and I noticed this beautiful window inside the exhibition hall, so Adrian had an impromptu photoshoot with Nicole and Yilun. Photos were taken and edited by Adrian.
We did not want to just end our adventure there, so we grabbed dinner together at VIP Coffee & Cake Shop.
Stumbled upon this lovely sight nearby.
Parking was not the easiest, so Adrian and I had our own impromptu shoot while we waited for Nicole and Yilun to arrive. 😛
Once Nicole and Yilun arrived, we shared our meal family style!
We grabbed drinks from Cool Tea Bar and continued talking. From there, we decided to go watch Guardians of the Galaxy at the Metreon. It was my first time being at the Metreon and I was very impressed by the self ticketing booths and the fancy decorations. So pretty! The movie also turned out to be quite awesome. 🙂
❤
As the night came to an end and we had to say our goodbyes, I felt like I already missed them. Strange huh? The day was just too fun! 🙂